Uhu Tube # 11
Product by: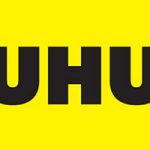 Uhu tube 12cc/12ml
20 pieces in one packing
Price is for single piece
Glue Made in Germany
Description
DESCRIPTION
PROPERTIES
solvent-free
transparent
fast drying
water resistant
washes out in wet condition
odorless
adjustable
APPLICATION
SUITABLE FOR:
Universal – glues cardboard, paper, felt, leather, cork, fabrics, wood, among themselves and to metal, porcelain, glass, Styrofoam® and many plastic materials.
BEFORE USE:
Working conditions
Do not use at temperatures below +5°C.
Surface requirements
Materials to be glued must be clean, dry and free of dust and grease.
Preliminary surface treatment
When glueing plastics or metal, better results can be obtained if the parts to be stuck together are slightly roughened first.
DURING USE:
Directions for use
Thoroughly clean the surfaces to be glued (dry and free of dust and grease). Apply the adhesive thinly to one side of the assembly, press the parts together – that's it!
AFTER USE:
Stains/residue
Adhesive which has not yet fully dried, can be washed out very easily with cold or warm water.
Storage conditions
Store in a dry, cool and frost-free place.