W 7603 M&G Double Tip Water Color Marker(18 color)
Product by: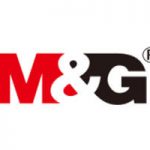 W 7603 M&G Double Tip Water Color Marker
Also commonly known as touch lit type marker
Made in china
Description
DUAL BRUSH PENS SET OF 18 include a 0.8mm round fine tip for consistent lines and a 2mm brush tip for shading, coloring, and blending
HIGH QUALITY – Long lasting professional standard Marker pens designed for absolute perfection
NON TOXIC – Stationary Cupboard Marker pens are made from non-toxic water based ink and do not have any chemical scent or toxic vapors.
PERFECT FOR EVERY SKILL LEVEL – These professional quality marker pens are a perfect option for artists of every skill level
These professional Stationary Cupboard brand color dual tip marker pens (18 in a pack) can be used on an extremely wide range of materials, Including plastic, acrylic, mirror, glass and metal. They can be used for making eye catching outdoor displays, keeping the office calendar looking prominent and for creating dazzling art projects.