W 7610 M&G Double Tip Water Color Marker(36 colors)
Product by: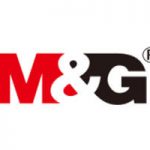 W 7610 M&G Double Tip Water Color Marker
Also commonly known as touch lit type marker
Made in china
Description
Markers has dual tip ends, perfect for everyday use and decoration or gifts for upcoming holidays. 1-2 mm brush tip for coloring, shading and blending. 0.8 mm round tip for outlining and fine detail.
36 Pack Double Tips Marker Pens include wide range of colors
Great for design work, coloring books and perfect for school, craft, hobby and DIY projects. These makers pens art kits are perfect for fine art techniques, card making, illustrations, sketching, painting, drawing, coloring, graphic, design card making, gouache, rubber stamping, calligraphy, hand-lettering, doodling, journaling, novelty projects, sharpie projects, design animation, coloring mandalas with the kids, full-color graphic novel and more! It is great for Kids Age 3+.