ZETH07 Pentel Eraser Ain
Product by: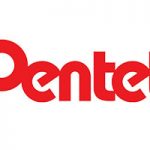 ZETH07 Pental pencil Eraser
Made in Taiwan
Description
The Pentel Hi-Polymer erasers are high-quality plastic, latex-free erasers that remove lead easily and cleanly with very little pressure. It can remove pencil marks without weakening the paper or smudging. Pentel Hi-Polymer latex-free large block erasers deliver high-quality, professional results on handwritten notes and papers. These non-abrasive erasers eliminate stray marks while preserving the integrity of the paper. Hi-polymer erasers do not crack or harden with age and remain soft. The erasers come with a protective sleeve to keep the eraser clean.
White rectangular block erasers optimize the corrections.
Use for pencil lead on a wide range of papers.
White eraser.
It is made of polyvinyl chloride.
No smudges, smearing, or ghosting on the page for a professional look.
Erasers always look clean and store in a protective sleeve for the best results.
Block style works well for small errors and entire lines of text for versatility.
AP-certified nontoxic for safety.