Uhu Glue Pen
Product by: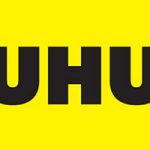 Description
PROPERTIES
Convenient applicator for an easy, clean and smooth glue application
Glues fast, clean and without wrinkling paper
Solvent free
Cold washable
APPLICATION
SUITABLE FOR:
Suitable for glueing paper, cardboard, photos, Styrofoam® (expanded polystyrene), labels, textiles, etc.
BEFORE USE:
Surface requirements
Materials to be glued must be clean, dry and free from dust and grease. One of both surfaces must be absorbent.
DURING USE:
Directions for use
UHU Glue Pen is preferable applied and spread evenly onto the materials to be glued. The parts are put together immediately after applying the glue. The glue dries quickly.
First usage: Turn the cap with the fabric tip clockwise and remove inner seal. Replace fabric tip. Squeeze tube gently and rub tip over paper. Replace cap after use.
AFTER USE:
Stains/residue
UHU Glue Pen can be easily washed out with cold water.
Storage conditions
Store in a dry, cool and frost-free place.