Uhu Gum Stick 21 grams
Product by: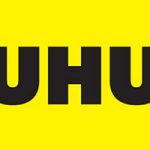 Uhu Gum Stick # 189
which is approximately 21 gram
Packing is of 12 pieces
Price is for single piece
Made in Germany
Description
DESCRIPTION
PROPERTIES
Glues fast, strong and durable
Highly efficient and cold washable
Solvent free glue formula with 98% natural ingredients (incl. water)
Screw cap prevents glue from drying out
Container from 50% recycled plastic
APPLICATION
SUITABLE FOR:
Suitable for glueing paper, cardboard, photos, Styrofoam® (expanded polystyrene), labels, textiles, etc.
BEFORE USE:
Surface requirements
Materials to be glued must be clean, dry and free from dust and grease. One of both surfaces must be absorbent.
DURING USE:
Directions for use
UHU stic is applied with light pressure onto the materials to be glued. The parts are put together immediately after applying the glue.
AFTER USE:
Stains/residue
UHU stic can be easily washed out with cold water.
Storage conditions
Store in a dry, cool and frost-free place.